Family of Michaela McAreavey set up charity for her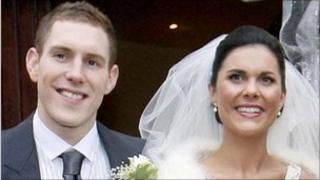 The husband and family of a young Irish woman found strangled in her hotel bedroom on her honeymoon are to set up a charity in her memory.
Michaela McAreavey, 27, daughter of Tyrone Gaelic football manager Mickey Harte, died in Mauritius last month.
The plan to launch a charity was announced as her family prepared for a special Mass for Michaela in her home town of Ballymacilroy on Friday.
It will take place in the church where the couple married in December.
Michaela McAreavey's husband, John, said she had inspired him to be a better person.
"The way she lived her life has had a profound effect on many people," he said.
"The values that embodied Michaela's life seem to have captured the public's heart. For people to be aware of just how beautiful Michaela was, in this regard, fills me with great joy and pride.
"I am eternally grateful and privileged to have been such a large part of her life and this alone helps console me during this difficult time.
"Many people have encouraged me to act on the positive lifestyle and morals that Michaela enjoyed in her life. She has indeed had a major positive impact on my life in this regard also."
Michaela's father said the support the Hartes and McAreaveys had received on a daily basis was amazing.
"The fact that she has touched the lives of so many who never knew her but now feel that they do, has encouraged both families, Hartes and McAreaveys, to put in place the formation of a trust/foundation to celebrate through her, the sound values which Michaela held dear," he said.
Five men have been charged in connection with the murder of the young Irish language teacher while she honeymooned on the Indian Ocean island of Mauritius last month.
In a joint statement the McAreavey and Harte families also said: "Thank you everyone that contributed in any way, small or large, to the organisation and logistics of the wake and funeral.
"We have been overwhelmed with the volume and sincerity of support from people from all sides of the community across Ireland and the entire world.
"Those who have visited, sent letters, emails, messages, cards and prayers. The volume of support alone from this media has been staggering and we are in the process of reading through everything. We appreciated absolutely everything that has been sent."