Nairac court hears interview with murder accused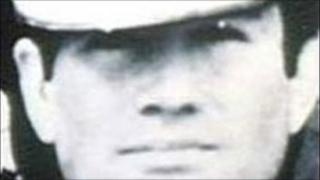 The trial of a County Armagh man accused of the IRA murder of Captain Robert Nairac, 33 years ago has been shown a BBC interview given by him.
In it, Kevin Crilly, 60, from Lowerfoughill Road, Jonesborough, said he had been "in the wrong place at the wrong time". He denies murder.
In the recording Mr Crilly also said his involvement was "minimal".
Captain Nairac, was abducted from a bar at Drumintee, south Armagh, in May 1977 and killed.
In the recording, Mr Crilly, using his original birth name, Declan Power, admitted being in the Three Steps Inn on the night that Captain Nairac went missing.
However he told the two BBC journalists that he denied being "involved with the IRA" .
Mr Crilly claimed he had been "in the wrong place at the wrong time" and that he "regretted" his involvement, which he described as "minimal, minimal".
Belfast Crown Court also heard Mr Crilly say in the interview that he expected to go jail for his involvement, but that he was "just hoping that I don't go to jail".
The case has been adjourned.