RIR man Dalzell 'accidentally killed' in Afghanistan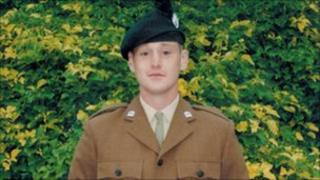 The family of a Royal Irish Regiment (RIR) soldier shot dead in Afghanistan have said he was killed in a tragic accident.
Ranger David Dalzell, 20, from Bangor, County Down, was fatally wounded by another RIR soldier after he returned to his base at Nad-e Ali, in the Helmand Province on Friday.
His family said it was important "speculation and rumour ends".
They said their thoughts were also with the other soldier.
A statement from the family said:"There has been speculation about the phrase 'operational accident' which has caused questions about how our son died.
"We think it's important for us and David that the speculation and rumour ends.
"David died after being accidentally shot by another soldier while they were back in their operating base.
"We don't know exactly what happened, just that our son was fatally wounded.
"As well as our huge loss which has devastated the family, that other soldier must be suffering and our thoughts are with him as well."
The family said it had been been told an investigation by the Army was under way and it hoped to "learn more from that".