Eamonn Hughes murder accused says he 'did no wrong'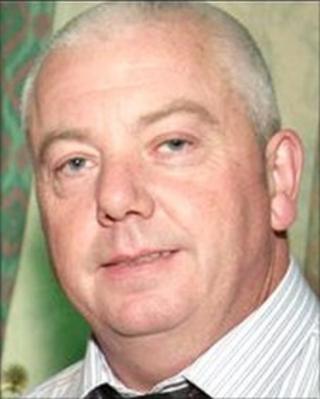 A man accused of involvement in the murder of Dungannon man Eamonn Hughes has told a court he had "done nothing wrong".
Liam Murray, 24, of Windmill Court in the town, said he had no intentions of hurting anyone on 12 September 2008. He denies murdering Mr Hughes.
Three other men are also accused of the murder which happened as Mr Hughes left his daughter's 18th birthday party.
Mr Hughes was stabbed once in the chest after a row broke out
Mr Murray, his cousin Martin, 23, also from Windmill Drive, Kevin Toye, 24, from Windmill Court - all Dungannon, and William McDonagh, 25, from Kew Gardens in Ballymena, deny murdering Mr Hughes.
The four also deny attempting to murder Martina and Emma Donaghy, a mother and daughter who were run over by a hijacked taxi as they tended to Mr Hughes.
A fifth man on trial, Kevin Murray, 41, from Lisnahull Gardens, also Dungannon, an uncle to the other two Murrays, denies attempting to murder Mr Hughes' son Kevin by shooting him with a crossbow bolt.
On Monday, Belfast Crown Court heard that Liam Murray told his defence lawyer that he had been drinking at a relative's house when his cousin phoned to say he had been in a fight with three people.
'Block of concrete'
He said that he, Mr Toye, Martin Murray, Mr McDonagh and another man got into a taxi and went to Lisnahull.
Liam Murray told the court they spotted the Hughes and got out of the taxi.
He said he could see something in Kevin Hughes' hand and ran back to the taxi when he saw another man running at him with a block of concrete.
Liam Murray claimed Kevin Hughes ran over to the taxi and wanted to fight him again and that when the taxi began to drive off, neither Mr McDonagh nor Martin Murray were in it.
"I asked the taxi driver to stop and he did stop. Martin got into the back and William tried to get in but the taxi pulled off again," he said.
Liam Murray said Mr McDonagh pulled the driver from the car and Mr Toye got into the driver's seat with Mr McDonagh getting into the back. The car drove off.
However, he said Mr Toye turned it around and drove back towards the crowd.
Liam Murray said he had his head ducked down as "there was a man on the road with a breize block".
He said as the vehicle was driven down the Lisnahull Road he heard two bangs and asked the driver what had happened.
He replied: "I think I hit someone".
Liam Murray said as the car drove on, somebody said that they thought they might have stabbed someone. But in the commotion, he did not know who said that.
Under cross examination from Mr Toye's defence lawyer, Liam Murray was asked if Mr Toye had been "gloating" about hitting someone.
Liam Murray said that it was more as if "something had happened in a way that he did not anticipate".
The trial continues.