Elderly couple rescued from car in water in Cookstown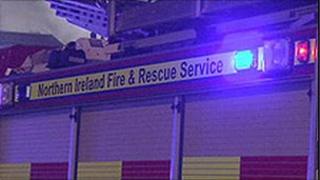 An elderly couple have been rescued after they were trapped in a car which was in 3ft of water in County Tyrone.
Two fire engines attended the incident at Kingsmill, Cookstown, after receiving a call at 1418 GMT.
The couple were trapped as a result of flooding on a laneway.
Fire crews rescued the couple by attaching a line from a "telescopic forklift" to the car which allowed them to tow it out of the water.
The NI Fire and Rescue Service said the couple were treated at the scene by paramedics and taken to Antrim Area Hospital by ambulance.