'£200m boost' from cut in NI corporation tax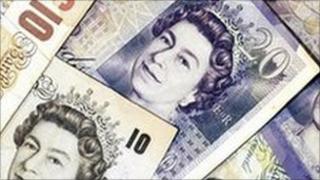 Cutting corporation tax could lead to business investment increasing by about £200m in year one, a draft government paper obtained by the BBC has said.
However, it has also warned that EU rules mean the tax cut would mean a significant reduction in the budget given to the Stormont Executive.
The main rate of UK corporation tax is 28%, double that in the Irish Republic.
The paper indicated that NI has less than a third of the high quality foreign investment south of the border.
'Positive effect'
In an independent review just over three years ago, the former head of the Inland Revenue, Sir David Varney, advised against a reduction in corporation tax in NI, arguing that it would cost the NI exchequer almost £300m a year in lost tax receipts.
By contrast, this latest draft Treasury paper has said such a move "would, on its own, be likely to have a positive effect on local private sector investment".
It added that it could "play a significant role in helping rebalance the NI economy".
The paper does not give an estimate for the number of new jobs which could be created if corporation tax was cut to match the Irish rate.
But adding fresh domestic and foreign input together, it has calculated that there could be £195m extra investment in the first year after a change, rising to around £420m ten years after a change of policy.
However, under EU rules, Northern Ireland's local budget would have to bear the impact of any tax cut.
Phased policy
BBC NI political editor Mark Devenport said that one table in the paper suggested the Stormont bloc grant could be hit to the tune of £110m in the first year after a change, rising to £285m three years later.
"These figures are estimated on introducing a cut in one fell swoop, but the paper also discusses the possibility of phasing in the policy over five years," he added.
Stormont ministers have had the draft Treasury paper since December and it will not be finalised until they provide their input.
The paper stops short of recommending a tax cut - instead it asks the public to give their response to a series of questions.
But the change of tone from 2007, when the Treasury rejected the proposals, is unmistakeable.