Ulster Bank seeks 9m euros from Taggart brothers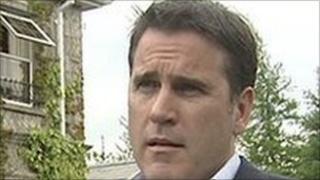 Ulster Bank has asked the High Court to back its claim for the recovery of millions of pounds from two brothers whose house building empire collapsed.
The bank claims Michael and John Taggart personally guaranteed loans before Taggart Holdings went into administration in 2008.
It is seeking just over nine million euros from the pair.
A judge reserved his decision on whether or not the case should now proceed to trial.
The brothers, whose company owed about £300m when it was placed into administration, have themselves filed a £120m writ against the bank.
They have alleged that Ulster Bank acted prematurely and unfairly in calling in administrators.
In the High Court hearing on Monday, the dispute centred on whether or not personal loan guarantees by the brothers were temporary.
Both sides made submissions on a loan-to-value of assets agreement which forms a key part of the case.
A barrister for the brothers outlined their shared belief that the guarantee was not long-term and they "signed them only on the understanding that they were temporary".
As well as construction work in Ireland, Taggart Holdings also built houses in Great Britain and the Isle of Man.
The firm was a major success story during the property boom, with the brothers believed to have amassed huge personal fortunes.
But it became one of the highest-profile casualties of the property crash.
Master Bell, who heard the case on Monday, gave no date for when he would deliver his verdict.