DRD staff 'taking phone calls in Irish'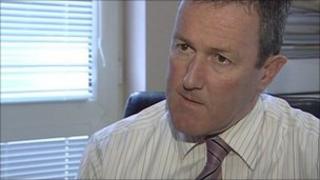 Staff at the Department for Regional Development have used newly acquired Irish skills to take phone calls in the language, Conor Murphy has said.
The DRD minister sparked controversy last year when he revealed that he was providing Irish classes for staff, paid for out of the departmental budget.
Unionist politicians accused the minister of wasting public money.
Responding to a written assembly question this week, he said that £2,284 had so far been spent on the service.
He added that he considered the money to be a "good use of resources" which helped the department meet its commitments to the European Charter on Minority Languages.
"Overall, 30 staff have completed beginner training and 13 staff have completed intermediate training," he said.
"One of the objectives of the charter is the facilitation and encouragement of the use of regional and minority languages in speech and writing in public and private life.
"There have also been practical benefits, as staff have been able to use their skills to assist the department to deal with telephone calls, correspondence and other Irish language issues."