Irish rock guitarist Gary Moore: an obituary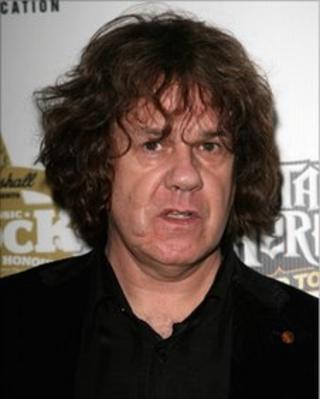 Gary Moore, one of the most renowned Irish rock guitarists of his generation, has died at the age of 58.
Born in Northern Ireland, he moved to Dublin at the age of 16 in time to become part of a burgeoning rock scene in the Irish capital.
His career spanned five decades and an era when his country consistently produced more than its fair proportion of talented musicians.
Born in the same part of Belfast as his contemporary Van Morrison, Gary Moore was inspired to play guitar by seeing Jimi Hendrix in his hometown in the mid-1960s.
He focused his mind on a career in music and moved to Dublin where he joined Skid Row, which featured Phil Lynott.
Virtuosity
Lynott was subsequently dropped from the group, which produced two albums, but later asked Moore to join him in Thin Lizzy.
His initial involvement in 1973 lasted only for a few months but he rejoined four years later.
The second link-up was hugely successful with Lynott's vocal melodies blending perfectly with the edgy sound produced by Moore's virtuosity.
It has been reported that upon hearing him play, George Harrison said that Moore "makes me sound like a skiffler".
Throughout the late 70s and early 80s, Moore would flit between Thin Lizzy - performing on their legendary 'Black Rose' album - and his own solo career, to which he was always committed.
His attachment to his own career, producing 20 studio albums, may be explained by his determination not to be confined to one particular genre.
His style shifted from the blues - with which his solo career was probably most closely associated - to his roots in rock music and occasionally whatever had most recently caught the fancy of his musical ear.
He worked with a wide range of distinguished artists including BB King and Bob Dylan.
'Exceptional and beautiful'
A relatively quiet and reserved individual, Moore was known for his dedication to his muse.
Following news of his death, another former Thin Lizzy guitarist Eric Bell stressed that Moore was "healthy" and not a "rock casualty".
Speaking following news of Moore's death in a hotel room in Spain, Bob Geldof told the BBC that he would be sadly missed.
"Thin Lizzy are one of the great bands. If you don't have them, you don't have things like AC/DC, that whole strain of lyrical rock and roll.
"Gary, without question, was one of the great Irish bluesmen. There is a sort of trinity of Van Morrison, Rory Gallagher and Gary Moore.
"His playing was exceptional and beautiful. We won't see his like again," he said.