Jury selected for Hazel Stewart's double murder trial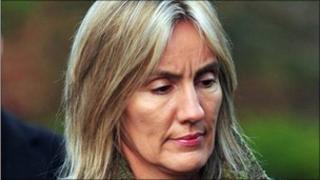 The trial of a Coleraine woman accused of murdering her husband and her former lover's wife got under way on Tuesday.
Hazel Stewart, 47, denies murdering Trevor Buchanan, 32, and Lesley Howell, 31, in Castlerock in May 1991.
Her co-accused, former dentist Colin Howell, admitted the charges in November and was later sentenced to a minimum term of 21 years.
A jury was sworn in for her trial on Monday. Mrs Stewart was granted bail.
They have now been sent home and the trial proper is due to open on Tuesday.
Mrs Stewart arrived at Coleraine Crown Court flanked by her son and daughter, her second husband, David Stewart, walked a few feet behind.
Her trial had been delayed to allow the defence to study a "lengthy statement" made to police by Howell.
The case against Mrs Stewart, a mother of two, was adjourned in December after Howell gave the new statement - understood to be over 40 pages - to police from his Maghaberry prison cell.
A baptist minister will be among the key witnesses to testify at the trial, the court heard on Monday.
John Hansford was a pastor in Coleraine at the time of the deaths of Mr Buchanan and Mrs Howell.
Their bodies were found in a fume-filled car. At the time, police believed they died in a suicide pact.
Mr Hansford's wife Elizabeth, is to be called to give evidence, as well as other members of Coleraine Baptist Church and Mrs Howell's brother Christopher.
The case was reopened in 2009 after new information was given to the police.
Mrs Stewart's trial is expected to last four weeks.