Public sector urged to create jobs for mentally ill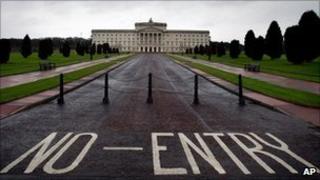 People recovering from mental illness should be offered work in the public sector, a leading charity has claimed.
Action Mental Health (AMH) has urged the government to create jobs and training schemes for patients with mental illnesses.
Chief Executive of AMH, David Babington, said the charity has strong links with businesses in the private sector.
But he criticised the public sector for failing to "open up" in the same way.
"We deliver training programmes and support work based training and employment placements with a view to helping our clients re-enter the workforce," he said.
"But the largest employer in Northern Ireland, the public sector, needs to engage further than it has to date.
"These schemes could be extended at little cost, with huge benefit both to the people involved and to the wider economy."
The charity said cases of mental illness are 25% higher in Northern Ireland than in the rest of the UK.
Action Mental Health will launch its manifesto at Stormont on Monday.
Mr Babington said he hopes government departments will "lead by example" and recruit more people who are recovering from mental illness.
"They need to lead the charge in combating stigma, and offer work placements to people with mental health needs."