McCausland plays down Olympic economic benefits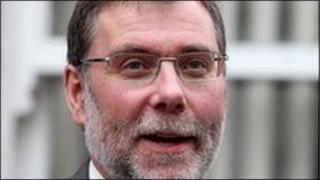 The Sports Minister Nelson McCausland has said the financial benefits of the Olympic Games to Northern Ireland have been "exaggerated".
Mr McCausland said he is confident a number of teams will chose to train here, ahead of the games in 2012.
However, he said their arrival will not boost the economy.
"Sometimes people have exaggerated expectations. It is not going to result in a huge amount of benefit for the economy," he added.
"The fact is that athletes are not going to be wining and dining at the best of hotels.
"They are going to be limited to a strict training regime. They will be limited to their training camps so the financial benefits are limited."
Mr McCausland made the comments on the BBC's Politics Show.
So far, no international teams have chosen to base their pre-training camp here.
Mr McCausland has previously said he has "confidence" in Northern Ireland as a sporting venue.