Catholic Mass 'sexist and elitist', say priests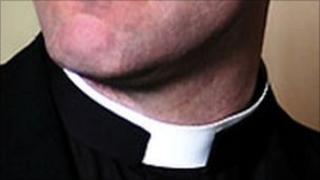 A new version of the Irish Catholic missal is sexist, elitist and obscure, a group of Irish priests has said.
The Association of Catholic Priests (ACP) is at loggerheads with the Vatican over the text to be used during Mass from April.
The ACP has said that the continual use of the word 'man' and 'he' throughout the text discriminates against women.
"Many women will be rightly enraged by the continued deliberate use of non-inclusive language," the group said in a statement.
"The ACP strongly opposes the introduction and use of any texts which will insult and offend women who are at the heart of every Christian community in Ireland."
It says a prayer which speaks of how Jesus came "for us men and for our salvation" is an example of the non-inclusive language.
Fr Tony Flannery, a Redemptorist priest based in County Galway, told the BBC that the new text was first proposed by the Vatican ten years ago but that discussions had been mostly held in secret.
"We do not believe that either Irish priests or Irish people have been given sufficient opportunity to make their views known," the ACP representative added.
"We feel that the example of the German bishops should be followed and there should be a delay of five years to allow these changes to be properly discussed."
The ACP has also complained that the translation from the Latin texts is too literal, arguing for a "dynamic equivalent" translating according to the sense of the original.
"The ACP is gravely concerned that this literal translation from Latin has produced texts that are archaic, elitist and obscure," it said.
'Chaos and confusion'
One of the changes which has drawn its particular ire is to replace the line 'for you and for all' with 'for you and for many'.
It says that the change will cause parishoners may ask "Are there some for whom Jesus did not die?"
It has also complained about the lack of engagement with lay people in formulating the new text, arguing that it makes it "elitist".
The group said it believes the introduction of the new texts "could lead to chaos and confusion".
"The Irish Church does not need this confusion and disharmony, especially at this time," it added.
A spokesperson for the Irish Bishops' Conference said that no changes would be made to the new text.
"There is a programme of information being undertaken for priests and parishoners in which we sensitively explain the changes in the new missal," he said.
"The changes are few in number."