Man shot dead by off-duty police officer is named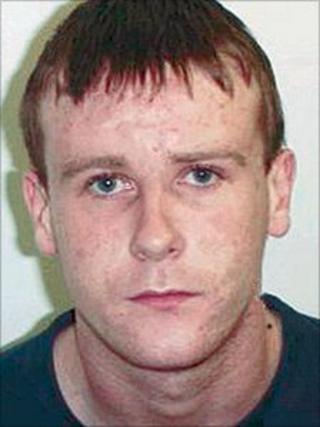 The man who was shot dead by an off-duty police officer in Belfast was 29-year-old Marc Alexander Ringland.
He was from the east of the city. He died during a suspected robbery at a petrol station on the Albertbridge Road at 1905 GMT on Thursday.
Investigators are examining claims he had a knife and was carrying out a robbery.
Twenty investigators from the NI Police Ombudsman's Office are working to establish what led to the shooting.
They are studying CCTV footage of the events in the filling station which could provide vital clues as to why Mr Ringland was killed.
It is believed the officer was in the petrol station when the robbery is alleged to have taken place. He shot the man who died at the scene. Nobody else was injured in the incident.
A spokesman for the NI Police Ombudsman's Office said a forensic examination of the scene had taken place and investigations were continuing.
"We have also identified and spoken to a number of witnesses, and would like to appeal for anyone else who may know anything about what happened to contact us on our freephone witness appeal line. The number to call is 0800 032 7880," he said.
BBC NI Home Affairs correspondent Vincent Kearney said there were two conflicting versions of what had happened.
"I understand that witnesses have given them two very different accounts of what happened.
"The first version is that the robber was shot after holding a knife to the throat of a member of staff and ignoring repeated warnings that he would be shot unless he dropped the weapon.
"The other version is that he was shot as he was leaving the shop with the money he had stolen.
"If that account is accurate, the question will be, did he pose a threat to a member of the public or the police officer when he was shot?"
Mr Kearney said that the building contains a number of closed-circuit television cameras and that they could be central to the investigation.
He added that police policy was that officers could only open fire when his or her own life or the life of a member of the public was in danger.
It is understood Mr Ringland had an extensive criminal record.
He was on licence for offences of criminal damage, driving while disqualified, making a threat to kill, burglary, theft and assault occasioning actual bodily harm.
The licence was imposed at Belfast Crown Court in March last year when he was also jailed for nine months. He had a total of 17 cases against him in both the Crown and Magistrates Courts dating back at least five years.