Sinn Fein Donegal South West candidate's biographical error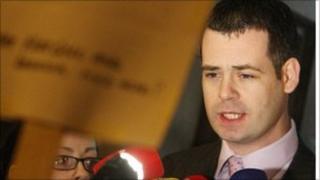 Pearse Doherty, Sinn Fein's candidate for Donegal South West in the Republic's upcoming elections, has had to do a little website management on his profile on the party's Donegal website.
Mr Doherty's biography said he was a civil engineer, but he didn't complete his civil engineering course at Dublin Institute of Technology.
He did two years of the three-year course, gaining a national certificate which entitled him to work as a civil engineering technician.
The website has since been corrected to say that Mr Doherty "qualified as a civil engineer technician from D.I.T Bolton Street".
A spokesman for Sinn Fein said the mistake was "just a minor error".
"While his qualification was as a civil engineering technician, Mr Doherty did work as a civil engineer after leaving his course," he said.
Mr Doherty said on Thursday that he had "always been up front" about the fact that he had left college after two years and had instead gone to work in the field.
The Sinn Fein candidate was elected to the Irish parliament in November when he won a crucial byelection in Donegal South West.
He won 13,719 first preference votes, 6,000 more than the candidate for the largest party in the Irish parliament, Fianna Fail.
Irish voters go to the polls later this month in the Republic's first election since last year's 85bn euro bailout loan.