What the papers say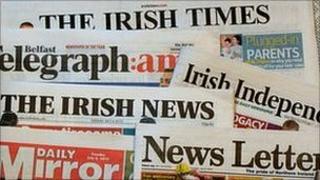 Journalist Liz Kennedy takes a look at Friday's newspapers.
The shooting dead of a man by an off-duty policeman is the main local story this morning.
It happened during a robbery at an east Belfast garage and makes the lead in the Sun, Daily Mirror, Irish News and News Letter.
The man, understood to have been armed with a knife, entered the petrol station on Belfast's Albertbridge Road, just after seven o'clock last night.
The News Letter quotes councillor Jim Rodgers, chair of the East Belfast District Policing Partnership, who said that his thoughts are with the family of the man, who lost his life.
The Belfast Telegraph also carries the story, but leads with the results of a freedom of information request about the terms of employment of former PSNI Chief Constable Sir Hugh Orde.
And both the News Letter and the Mirror carry a report about a businessman from Portrush, who has died in a road crash in India, whilst taking part in a trek for children's charities. Chris Hallam was due to return home on Sunday.
There are further economic woes in the Dublin papers.
'Ironic'
Fixed rate mortgages are to be axed in the Republic, with the country's largest provider now leaving customers with no escape from future rate hikes.
Its main variable rate will also go up by 1%. Permanent TSB will announce this today, according to the Irish Independent. The bank will also axe 280 staff.
The paper points out that banks normally use percentage rises of a quarter or half per cent. It dubs it "ironic" that Ireland is hiking rates, just at the moment when a tentative recovery may be under way.
And The Irish Times has a politician holding a puppy on its front page. Enda Kenny wasn't being sold a pup, however, but holding a trainee guide dog - rather awkwardly, as he put a charity bet on Fine Gael to take 70 seats in the Republic's forthcoming election.
Internationally, the treatment of journalists in Egypt is under examination.
The Times calls it "a campaign of intimidation and violence" against foreign journalists and human rights workers in Cairo. It's a city "that has succumbed to anarchy" it says.
Meanwhile, the Daily Mirror's reporter in Cairo, Alun Palmer, describes how he was beaten up outside one of Cairo's hospitals, where he had gone to try to find out how many people had been wounded.
In the Times, James Hider tells how his party of journalists - including his wife Lulu, a reporter for American radio, came under attack in Giza.
'Concerted campaign'
The Guardian says that "dozens of foreign journalists" were arrested, attacked and beaten in Egypt yesterday, in what the US state department called "a concerted campaign to intimidate" the international media.
It also reports local claims that Egypt's TV station had warned viewers to beware of Israeli agents, masquerading as journalists.
Otherwise, on a more frivolous note, several papers show the latest snaps of the wife of the Commons speaker.
Sally Bercow is wrapped in a sheet, posing at a window overlooking the Houses of Parliament on the front of The Times. "Mr B will go potty," she tweeted.
Finally, have you heard the one about the left-footed parrot?
It's nothing to do with Monty Python. The Daily Mail reports that the majority of parrots claw with their left foot. Forty-seven per cent do, according to an Australian university study, 33 per cent are right-footed and the remainder are ambidextrous. And The Daily Telegraph reports that young parrots experiment, before settling on one side.