Taggart Brothers serve £120m writ on Ulster Bank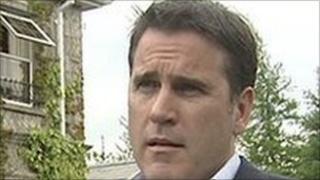 Two men behind one of the biggest companies to go bust in the property crash have filed a civil suit against Ulster Bank at the Belfast High Court.
Michael and John Taggart ran house builders Taggart Holdings which went into administration in October 2008.
Michael Taggart has estimated that the company had debts of about £300m when administrators were appointed.
However, the brothers claim they were unfairly treated and that they have personally lost about £120m.
Michael Taggart is himself being sued by banks for millions of pounds he gave in personal guarantees.
The Ulster Bank has said it will not comment on the case.
Relatonship soured
Taggart Holdings also built houses in Great Britain and the Isle of Man.
For much of the past ten years, the business grew relentlessly to the point where the Taggarts were said to be personally worth £115m.
However, the business' relationship with the banks soured in the months leading up to October 2008.
In an interview with the BBC last year, Michael Taggart said that the banks had moved too quickly against his business and that he could have reduced his debts if he had more time.
The claim for £120m includes lost earnings for three years for the two brothers.
It also includes £45m of profits "in other ventures such as healthcare, IT etc" they claim they could have made if they had been able to sell their business.
Michael Taggart has since gone back into the construction business, building houses in Navan in the Irish Republic.