Anger over Paterson's Sinn Fein 'progress' remark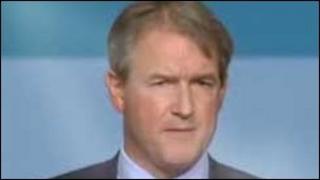 Two unionist politicians have called on the NI Secretary to consider his position after comments he made on BBC NI's Hearts and Minds programme.
Owel Paterson said if Sinn Fein's Martin McGuinness was first minister, it would be "an extraordinary endorsement" of progress in NI.
UU MLA David McNarry said Mr Paterson was "out of touch with unionism".
TUV leader Jim Allister said it showed the "perverse and anti-unionist" nature of the Stormont regime.
Mr Paterson said that local people would decide on the make-up of the Assembly at the next election.
"I think we should celebrate the fact that everybody wants to vote."
Mr Paterson made the comments on the BBC's Hearts and Minds programme on Thursday.
He added: "How that election turns out is absolutely not for me as Secretary of State to comment on.
"It is up to local people to go to the polling booths and vote."