Trust chief 'will not resign' over X-ray backlog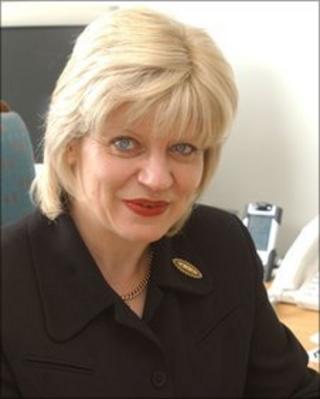 The chief executive of the Western Heatlh Trust, Elaine Way, says she will not resign over the X-ray backlog at Altnagelvin Hospital.
The delay led to four late cancer diagnosis. One man later died.
Ms Way admitted a backlog of X-rays at the hospital had built up for two years before it came to the attention of the Trust.
"Four patients and their families have been deeply affected by a delayed diagnosis," she said.
"We are profoundly sorry for that.
"I have led the Western Health and Social Care Trust for four years.
"We have faced many challenges and I have led from the front on those".
Ms Way said she had the" full support" of the minister, the Permanent Secretary, the chief executive of the health and social care board, and her own trust board.
"I am doing my best," she said.
"I am committed to serving the people of the Western area and to improving services here in the west.
"I just wish people could appreciate how hard our staff are trying to work on their behalf.
"There will be things that go wrong. A good organisation is one that puts its hands up and is committed to improvement, that is what we are.
"I get up every morning to work on behalf of the people of the Western area.
"I don't believe I need to resign over the issues that have been raised".
On Thursday, Ms Way appeared before a Health Committee hearing at Stormont.
It was told a backlog of X-rays at Altnagelvin Hospital was building up for two years before the Western Trust realised there was a "serious problem".
Ms Way said staffing issues at the hospital, prompted by the retirement of two senior radiologists in 2008, led to the backlog.
She admitted she did not realise the problem was so severe for another two years, when she was notified that a patient had been diagnosed with cancer that had not been detected.
Ms Way admitted there should have been 17 permanent posts within the radiology department, but at one stage there were just seven.
The X-ray backlog situation came to public attention when details of a performance review into the Western Health Trust, ordered by Northern Ireland's Health and Social Care Board last year, were leaked to the media.
A radiologist at the hospital also addressed the committee. He said he hoped the trust could learn from the "disastrous" situation, which led to late cancer diagnosis.
Dr Brendan Devlin, was appointed lead radiologist at Altnagelvin in July 2010.
"Overall I would have to say that out of this disastrous situation that has occurred here we can see some benefit coming from it," he said.
"If you look at this again in a year, 18 months or two years time, you will find a very dynamic service and a service that we will be proud of."