Families of six men shot by UVF given report date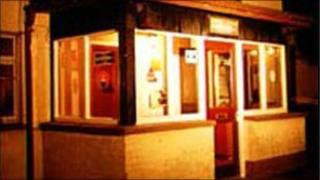 A long-awaited report into how the RUC investigated the shooting of six men by two UVF gunmen in 1994 is to be published on 21 March.
The Police Ombudsman confirmed the date after meeting the families of the Loughinisland massacre on Friday.
They went to the Ombudsman's office because they were concerned about the delay in publishing the findings.
The men were shot in the Heights Bar as they watched Ireland v Italy in the World Cup on 18 June.
One of the victims, Barney Green, 87, was one of the oldest people to be murdered during the Troubles.
The others who died were Adrian Rogan, 34; Daniel McCreanor, 59; Eamon Byrne, 39; his brother-in-law Patrick O'Hare, 35, and 53-year-old Malcolm Jenkinson.
The families of the six men went public with their criticism of the original investigation by the RUC - the Northern Ireland police force at that time - in 2006.
They said they were prompted to do so by revelations linking at least one alleged security force agent to the gang which murdered their loved ones.
They said they were particularly concerned that the getaway car used by the killers was destroyed by police two years after the shooting - and not retained for evidential reasons.
'Long and difficult'
A police reservist was questioned about perverting the course of justice and witholding information.
But the Public Prosecution Service decided not to proceed with charges against the officer.
MLA for South Down Caitriona Ruane said delays in making the report public had proved "long and difficult".
"The Loughinisland families have conducted themselves with dignified patience throughout the years since their loved ones were so brutally murdered.
"They deserve to be treated with the utmost respect and I believe that they are entitled to know the findings of this report without any further delay."
SDLP Leader and South Down MP Margaret Ritchie welcomed news that the report was to be published soon.
"The families of those murdered have waited nearly 17 years for information about how and why their loved ones were murdered in such a barbaric way," she said.
"I hope that this report will reveal why this happened, and bring to light any evidence of collusion, MI5 involvement and, importantly, recommend the next steps in relation to prosecutions and obtaining justice for the families and their loved ones."