£5m Enniskillen home has 29 staff and three patients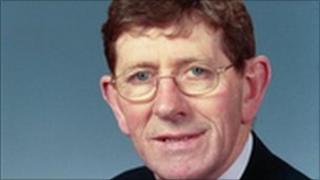 There are five dementia patients waiting for residential care in the Western Trust area, even though a £5m residential home in Enniskillen has space for 30 people.
Gnangara opened in October and has treated just three patients.
A spokesperson for the trust revealed on Thursday that one dementia patient is awaiting residential care in Enniskillen.
Another four people are on waiting lists in Omagh and Londonderry.
The home is owned and run by the Fold Housing Association and receives patients through referral from the Western Health Trust.
Health Minister Michael McGimpsey said the number of patients that get referred by the trust will increase in time.
Mr McGimpsey told the BBC: "It will take time for the trust to arrange all the placements. That is part of the future.
"The £5m is the investment in dementia services in that area and the number of patients will build."
Gnangara has 29 full-time staff and offers patients accommodation in apartments or bungalows. It also has a range of communal facilities.
Fold Housing Association has said running costs since October had reached £165,000.
Tommy Gallagher, the SDLP MLA for Fermanagh/South Tyrone said it was a "crazy situation".
"The sums don't add up here. It is costing over £2,000 per week to keep patients suffering from dementia and other complications in hospital when the medical staff would like to see them discharged.
"And yet the trust isn't able to fund placements costing about half of that in settings such as this."
The Fold Housing Association said it was seeking to achieve full occupancy as soon as possible and to address the operational deficit.
A spokesperson for the Western Health and Social Care Trust said it welcomed the development of the Gnangara facility.
"It was confirmed to the Western Trust in late December that Gnangara had received registration from the Regulation and Quality Improvement Authority.
"Following this, the trust has been working with Fold in identifying people suitable for the newly opened facility. Such a process involving discussion with clients and families and ensuring that they are content with the chosen accommodation does take time.
"New accommodation such as Gnangara takes time to build occupancy and the Trust will continue to work with Fold to use this facility. Another two people are considering availing of the Gnangara facility."
The spokesperson said the budget was "under significant pressure", the financial environment was "very challenging" and that the Trust would continue to prioritise resources to those with the greatest need.