Thomas 'Slab' Murphy seeks early appeal hearing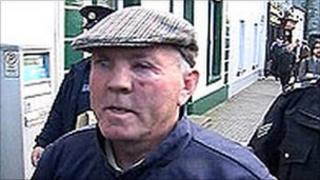 A republican is to seek an early hearing of his appeal against being tried for tax offences in a court normally used for terrorism cases.
A solicitor for Thomas 'Slab' Murphy told the Special Criminal Court in Dublin that he would apply for the hearing in the next 14 days.
The 61 year old of Hackballscross in County Louth is being prosecuted for tax offences between 1996 and 2004.
He appeared in court for the brief hearing on Thursday.
The charges allege he that failed to furnish a return of his income, profits or gains to the Inspector of Taxes over the eight year period.
He was sent for trial at the Special Criminal Court by Dundalk District Court in November 2008.
Following an appeal, the High Court found that the 61 year old's rights had been breached but ruled that the trial should go ahead.
He has now launched a new bid to prevent it being heard in the non-jury Special Criminal Court.
In court on Thursday, Mr Justice Paul Butler remanded Murphy on continuing bail until next month.