Omagh man afraid to leave home after Castlederg attack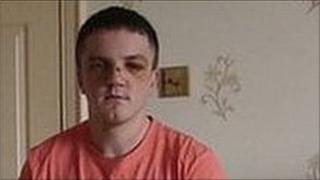 A 21-year-old Omagh man has said he is "too afraid to leave his home" after he was attacked in Castlederg.
Dean McCullagh and a friend were assaulted on Main Street in the County Tyrone village on Sunday.
He said he believes he was targeted because he is a Catholic.
"I'm a Catholic, my friend is Protestant and I have a Celtic cross tattoo," he said.
"I can't think of any other reason."
Mr McCullagh also sustained a broken nose and wrist, as well as back injuries.
"We were having a few drinks in a bar when it started," he said.
"A man punched me on the nose, then a gang grabbed us and took us outside.
"I was knocked out.
"It was my first time out in Castlederg and I won't be back.
"I don't want to leave the house, I'm too afraid to go out."
The police have appealed for information.