Gloves off in fight for Irish working class vote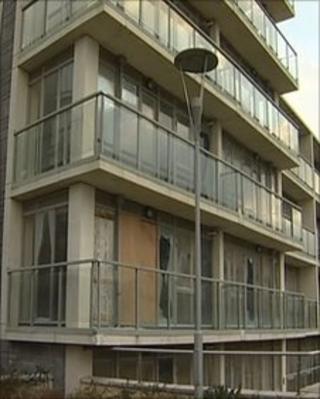 Irish voters go to the polls later this month in the Republic's first election since last year's 85bn euro bailout loan.
BBC Northern Ireland's Dublin Correspondent Shane Harrison has been sampling opinion in working class areas of the city.
Finglas is far from the richest area of the Republic but like most of the country, empty ghost housing estates and other obvious failures of an overheated and under-regulated property boom litter its urban landscape.
Much to the annoyance of many middle class left wingers, working people here have tended to vote Fianna Fail.
The party has two of the three seats and Labour the third.
But pollsters like Sean Donnelly believe that is about to change because of the European and IMF bailout loan.
Mr Donnelly said: "Fianna Fail, who were seen in the past as the custodian of the working class vote are under serious pressure this time, particularly from Labour, then further to the left Sinn Fein and other left-wing independents."
Burning the bondholders
Mick and Lily Dowling sit watching television in their council home in Ballymun while their daughter Saoirse plays with her laptop.
They are grateful still to have jobs because many of their friends do not, but they blame Fianna Fail for their relative hardship.
"Because of the tax hikes and the loss of working hours we are down by a quarter compared to the last election in 2007," said Mr Dowling.
"We do not socialise as much as we used to and we have not had a holiday in two years," he added.
Dessie Ellis, a former IRA prisoner and Sinn Fein councillor, is expecting support from people like the Dowlings.
He nearly took a seat in Dublin North West in the last election and is busy knocking on doors again.
He believes that those international financial institutions who gambled on Ireland's failed banks should take a hit and not be rescued by the Republic's tax-payers as part of any European and IMF bailout.
It is called burning the bondholders.
He said: "People are aware that the more money we put into Anglo-Irish Bank and Irish Nationwide Building Society the bigger the problem it is for the community.
"We are seeing people who can't pay mortgages, community projects and the minimum wage cut, and people on disability attacked."
Era-defining
One of the two Labour party candidates, John Lyons, said he wants the bondholders to share the burden with the Irish taxpayers because of the impact of cutbacks on ordinary people's lives.
But he accused Sinn Fein of economic illiteracy and of having a partitionist approach to financial matters.
"There is a contradiction between what Sinn Fein says and does north and south of the border," he said.
"They want to implement spending cuts in the north but down here they want to stop them," he said.
So, the gloves are off in the battle for Fianna Fail's declining working class vote but Micheal Martin's party won't quit without a fight.
However, voters I spoke to outside the local shopping centre were far from enthused by the political parties and their messages.
Many said they were all the same and that it was hard to trust any of them.
For others, though, polling day will be payback time for failures like the empty ghost estates and shattered illusions of wealth, success and old political certainties.
It is a potentially era-defining election for Labour, Sinn Fein and Fianna Fail.