Road deaths down 50% say police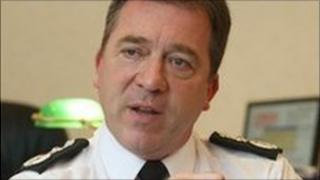 The number of road fatalities has halved in the past three months, according to new PSNI figures.
Anti-social behaviour is also down 4.8% and there has been an increase in sectarian crime detentions of 12.4%.
The number of non-domestic violence with injury crimes and the number of non-domestic burglaries have also been on a downward trend for the past year.
However detection rates for racist and homophobic hate crimes have not met policing board targets.
Speaking about the figures, Chief Constable Matt Baggott said "there are still tough challenges ahead".
He said: "Crime is down this financial year to date by 6.1% and the PSNI has the lowest overall crime figures compared to its most similar police services in the United Kingdom".
But he also stressed that more work would be done to improve detection rates for hate crimes, and to reduce domestic burglaries further.
Commenting on the reduction in road fatalities, Mr Baggott said that "one death is too many" and the PSNI would continue with their road policing operations and educational interventions.
The new PSNI figures are based on the financial year to date and reflect police performance at the end of the third quarter of 2010/11.