Law firm Allen and Overy creating 300 jobs in Belfast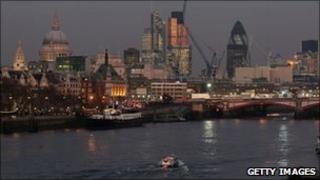 A law firm has announced plans to move 180 back-office jobs from its London base to Northern Ireland.
Allen and Overy, one of the top "magic circle" London firms, has said it hopes to save £10m over five years through the relocation.
In total, the company expects to have as many as 300 staff based in Belfast by 2014, with positions available in IT, HR and finance.
A number of lawyers will be based in Belfast, but will not practice NI law.
Enterprise minister, Arlene Foster, said the investment was a "tremendous endorsement" of Northern Ireland.
Invest NI has provided £2.5m towards the project.
"It reflects the confidence that international firms have in what we can offer, in particular our highly skilled and loyal workforce, low cost working environment and technically advanced infrastructure," she said.
"Allen and Overy evaluated 20 locations worldwide before deciding on Northern Ireland and was strongly influenced by the support offered by Invest NI and by our universities and representatives of the legal fraternity who championed our talented people.
"I hope that this investment will act as a catalyst for future investment in the legal services sector here which is recognised as an important sector in promoting economic growth."
Alan Hunter, Chief Executive of the Law Society, also welcomed the move.
"This opens up more opportunities for employment for solicitors in this jurisdiction during these difficult economic times," he said.
Allen and Overy's managing partner Wim Dejonghe told the Lawyer magazine that cost savings were not the only consideration in the decision to move.
"If the costs were the driver then we could have done something else, but we never wanted to compromise on quality," he said.
"It's one of the reasons we went for onshoring not offshoring and why we're launching as an A&O office. We weren't going to take any risks with quality.
"There's a lot of investment involved so the cost saving will only be £10m in total over the first five years."
He said on Thursday that Northern Ireland offered an "excellent location" from which to support its global operations.
The US Economic Envoy to Northern Ireland, Declan Kelly has welcomed Allen and Overy's move.
He said: "International companies continue to look to Northern Ireland as a prime location for investment because of the advantages the region offers including a competitive business environment, a talented workforce, and universities committed to supporting business growth."
Allen & Overy has 36 offices in 26 countries and more than 5,000 staff.
Last year, another London law firm, Herbert Smith, said it was relocating some of its back office workers to Belfast and also hoped to employ as many as 26 legal professionals.