Northern Ireland judge wins Sunday Times libel case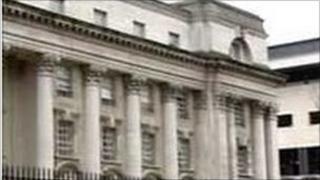 A NI High Court judge is to receive undisclosed libel damages over false newspaper allegations about him.
The publishers of the Sunday Times also issued an apology to Mr Justice Seamus Treacy and agreed to pay his legal bill for taking the case.
The judge sued over claims made in an article which appeared in the newspaper in March 2010.
The High Court in Belfast was told on Wednesday that a settlement has now been reached in the action.
As part of the resolution, a barrister for Times Newspapers Ltd read out a statement which retracted the claims published.
David Ringland QC said: "The publishers of the Sunday Times wish to take this opportunity to make it clear that all of the allegations which we published were wholly untrue.
"It is accepted without reservation that Mr Justice Treacy is a judge of the highest reputation and integrity who has always demonstrated the independence, resolution and fortitude appropriate to judicial office."
Mr Ringland added: "The publishers of the Sunday Times unreservedly apologise to Mr Justice Treacy for the upset and annoyance caused to him.
"As a demonstration of the sincerity of this apology, the defendant has agreed to pay damages, together with legal costs."