Belfast Harbour Commissioners warning over budget levy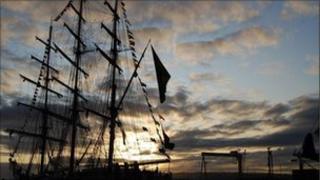 Belfast Harbour Commissioners have said that any proposal by the NI Executive to take extra revenue from the Harbour estate is not currently possible.
It is understood the executive is looking at a possible levy, which would raise £125m over the next four years.
Len O'Hagan, the chairman of the commissioners said any such decision would require a change in legislation across the UK.
He said that the Scottish Parliament was facing similar hurdles.
"All trust ports in the United Kingdom are subject to the same legislation," Mr O'Hagan said.
"Even in the DRD (Department for Regional Development) suggestion that maybe in two or four years time, some contribution could be made, they recognise that it will need a change in legislation."