Judgement reserved in Omagh bomb civil case appeal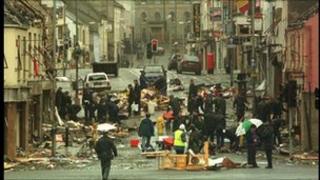 Judgment has been reserved in an appeal by four republicans successfully sued by some of those bereaved in the 1998 Omagh bombing.
Lawyers for the men set out their cases during a three-week hearing in front of three senior judges at the Court of Appeal in Belfast.
The judges pledged to deliver their verdict once they have gone through all the material in detail.
Twenty-nine people were killed in the Real IRA attack.
They included a woman pregnant with twins.
The four men found liable for the bombing in a landmark ruling in June 2009 were: Michael McKevitt, Liam Campbell, Colm Murphy and Seamus Daly.
Twelve relatives of some of those killed at Omagh were awarded a total of £1.6m in damages.
Their legal team is also appealing the level of compensation, arguing that they should receive more because of the scale of the outrage.
Lord Justice Higgins, sitting with Lord Justices Girvan and Coghlin, said: "I suspect both my colleagues, like myself, when the timeframe was set, had little understanding as to the extent of the paperwork and the issues in this case.
"The appeal has given rise to a considerable number of issues which we will require to consider and reflect upon. Then we will give our judgment in due course."