Freed Chilean miner visits Northern Ireland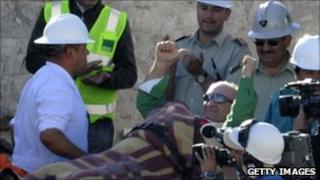 It was the story of last year - the Chilean miners surviving against all the odds.
Since then they have been guests at Old Trafford and the New York Marathon.
And this week one of them will be taking part in President Obama's national prayer breakfast in Washington.
But that is only a stop-off for Jose Henriquez whose final destination is Lurgan.
Mr Henriquez was known as 'the pastor' among the 33 miners who were trapped underground in Chile for almost two months last year.
He says he led the group in prayer and helped convert 22 of the 33 men to Christianity.
The miner's Lurgan visit was organised after the South American Mission Society (SAMS) in Lurgan contacted Alf Cooper, chaplain to the president of Chile, who was there when the men were rescued and knew Mr Henriquez.
Mr Cooper will join Mr Henriquez and translate for him on his trip.
The UK visit will begin with a few days in England after which the miner will travel to Northern Ireland.
He will speak at Craigavon Civic Centre on February, at Willowfield Parish centre in Belfast on Saturday, and St Saviours Dollingstown and Shankill Parish Church on Sunday.
SAMS Ireland General Secretary Denis Johnston told the BBC's Wendy Austin that many of these events are already oversubscribed, and said the interest had been "phenomenal".
Speaking on BBC Radio Ulster's Talkback programme, Mr Johnston said: "If we'd been able to have him for another week we could've probably filled another few places".
"The purpose of this visit is to say to people that there is a spiritiual message in this. There's a terrible story but there's a hopeful end to it, and a spitirual message which I think people need to hear.
"I think people who hear it will be greatly encouraged," he added.