Bail refused in Armagh man's Facebook case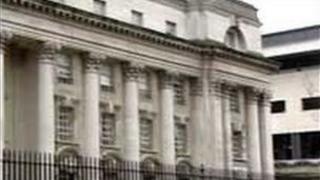 An Armagh man flouted a ban on associating with children by setting up a Facebook account to lure a girl from England, the High Court has heard.
Prosecutors said James Carragher used a public library computer to arrange a meeting with the 17-year-old, despite a prohibition on accessing the internet.
Mr Carragher, 22, of Plantation Road, Portadown, was arrested last week after the girl's mother alerted police.
Refusing bail, the judge described his actions as "blatant and calculated".
Mr Carragher faces two counts of breaching a sexual offences prevention order.
A Crown lawyer said Carragher had gained 37 friends on his Facebook page since he set it up last September.
'Arrangement'
One of them was the girl he also allegedly contacted by e-mail, phone and through letters.
"It developed to a situation whereby an arrangement was made by the 17-year-old to travel from her home in England to meet with this applicant," the lawyer said.
"It was at this stage her mother raised the matter with English police, who contacted the Northern Ireland police and a public protection unit officer who is monitoring this case."
The court was told the teenager knew Carragher from previous years and was aware of his past.
A defence lawyer said the meeting between the pair was planned for last Saturday, when the girl was to turn 18.
He said his client had not attempted to act surreptitiously or to use a false name.
"He used a library where the system history can be traced. He used his own name on Facebook," the barrister said.
"It's not one of those cases where he has taken on an alias and tried to disguise who he is."