Rathlin Island ballot box safe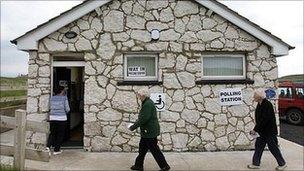 People living on Rathlin Island have welcomed news that they can keep their only ballot box.
The Electoral Office proposed removing the polling station from the offshore island last year.
But locals argued the alternatives, which included travelling by ferry to a polling booth in Ballycastle, were undemocratic.
Following a public consultation the Electoral Office have now said the box can stay.
If proposals to remove the ballot box had gone ahead, the 100 island inhabitants would have had the choice of casting a postal vote or sailing to Ballycastle to vote in person.
There was strong local opposition to the proposals, and islanders have welcomed the news that the box is to stay.
Noel McCurdy, chairman of the Rathlin Development and Community Association said: "It was only right that we retained the ballot box.
"We've a good record on Rathlin. A high percentage of people vote and I think that played a part in changing their minds," he said.
The move has also been welcomed by SDLP MLA Declan O'Loan.
He said: "The original proposal to remove the ballot box on cost grounds failed to take account of realities of geography and weather.
"Rathlin people should have the same democratic right as people elsewhere to cast their vote in person and should not be dependent on a sometimes uncertain ferry journey to Ballycastle to do so."
The ballot box on Rathlin Island is one of 610 voting locations across NI.
Related Internet Links
The BBC is not responsible for the content of external sites.