UUP leader says Orange hall water bills are 'too high'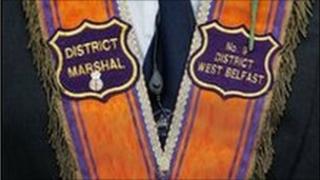 Some Orange halls are asking for their water to be disconnected because they cannot afford to pay the bill, Ulster Unionist leader Tom Elliott has said.
The MLA said some halls were charged "exorbitant sums" with annual bills reaching £120, despite the buildings being used just 12 times a year.
Mr Elliott said some Orange halls were considering having the supply cut off and filling their own storage tanks.
He was also critical of the water service being provided.
"I would not mind if we were getting a quality service or response, but as has been proven in the cold spell, they were totally incapable of supplying over 40,000 homes for over seven days," he said.
"Many Orange halls are only used 12 times per year and are connected into a septic tank and only use a minute amount of water per year and are forced to pay a standing charge of £66 per year, then a further charge of £1.013 per cubic metre of water used, and this can amount to an annual bill of over £120 per year.
"I am aware of one Orange hall which was flooded due to a burst pipe at the meter and they have requested NI Water to disconnect the supply and fill their storage tank once per year from a hose pipe, rather than pay these unjustified charges," Mr Elliott continued.
"The same applies to churches, voluntary organisations and charities which use a minuscule amount of water each year but still have to pay."
Mr Elliot said he was convinced that other organisations and churches which had septic tanks may consider a similar move due to the charges.