300 jobs posed in Belfast Harbour energy hub plan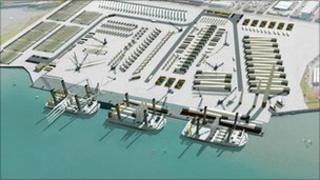 Northern Ireland could be in line for 300 new full-time jobs if a Danish company chooses Belfast as a location to assemble giant wind turbines.
If the plans go ahead Belfast Harbour will spend £40m developing a site for the company.
DONG Energy is moving towards an agreement which would make Belfast one of the UK's leading renewable energy hubs.
It is involved in a number of offshore wind farm projects in the Irish Sea.
As part of the proposal, Belfast Harbour would pay for a new £40m industrial park which the company would use to pre-assemble wind turbines and their foundations.
If it goes ahead, it is anticipated the project would create up to 300 full-time jobs and work for 150 construction workers.
Wind turbines are already being assembled at the Harbour estate by the former ship builder Harland and Wolff.
Peter Gedbjerg of DONG Energy said it hoped to "achieve a long and fruitful relationship with Belfast Harbour".
"The United Kingdom has a very ambitious plan for expanding the production of renewable energy," he said.
"The possibility of a tailor-made facility to make the installation of offshore wind turbines even more efficient fits perfectly with DONG Energy's goal of bringing down the construction cost of renewable energy."
Len O'Hagan, Belfast Harbour's chairman, said it had been pursuing the initiative for "well over a year", and it had the potential to" kick-start Belfast's aspirations to become a leading player in the new green economy".
Lord Stephen Green, the UK's Trade & Investment Minister, said the announcement recognised that Belfast was "one of the most successful cities at attracting investment in the UK", and that DONG had "confidence in the future of the UK as the world's number one offshore wind energy generator".