Harland and Wolff wins Nomadic refurbishment contract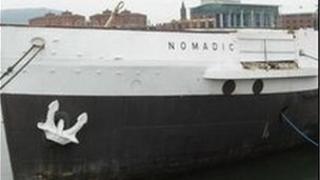 Belfast shipyard Harland and Wolff (H&W) has rekindled its 100-year link with one of its most renowned vessels.
H&W, famous for building the Titanic, has won a £2m contract to refurbish the Nomadic - a ship used to bring passengers to the ill-fated liner.
Work will start on the project immediately and is expected to be completed by the end of July.
It is hoped the ship will be totally refurbished in time for the centenary of the Titanic's sinking in 2012.
The money for the refurbishment has come from the EU Peace III programme.
The work is expected to provide over 25 jobs, with at least three new posts created.
Social Development Minister Alex Attwood, whose department owns the ship and awarded the contract, said the vessel played an important role in the Titanic story.
"We are looking forward to the next chapter which will see her take up a role as a key attraction at the heart of the centenary festivities," Mr Attwood added.
"This is another great milestone in the ongoing refurbishment of Titanic's little sister."
Denis Rooney, Chairman of the Nomadic Charitable Trust, said: "The superstructure and steelwork contract will ensure that the vessel will be ready to accommodate the key fit out stage of the restoration programme, which will commence immediately after this contract is complete.
"Between now and then we do have another very important milestone of our own with the Nomadic celebrating her centenary in April of this year.