Adams appeals to County Louth voters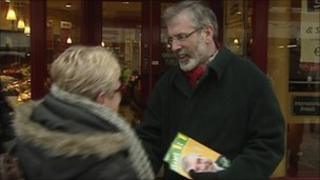 Gerry Adams strolls past St Peter's Church in the centre of Drogheda, home to a famous shrine to the martyr St Oliver Plunket.
"This is where all the northern Catholics come to see Oliver Plunkett's head" he tells a companion. "I can remember my granny bringing me years ago."
These days he's engaged in a different pilgrimage - looking to spread Sinn Fein's gospel to the voters of County Louth.
If exasperation with their current representatives is anything to go by, the electorate here could make ready converts.
A taxi driver spots the BBC camera on the pavement and treats us to an expletive-laced diatribe on the parties now occupying the Irish Dail.
I tell him that if he moderates his language he might make it on to the airwaves and he tells me the people want to "get out with the lot of them, they're all the same, they get in, get their pension and go off and do their own business".
The Sinn Fein president has the advantage of instant recognition and as he strolls around the shops, stopping to buy a child's hurley stick, the locals seem to warm to him.
"What are you going to do for the country?" asks one woman. "Our best" the candidate replies before agreeing that the current situation is "a disgrace".
University fees
A student tells me he's concerned about the economy in general and university fees in particular.
"I don't think anyone's going to vote Fianna Fail this year" he says "because of the pure mess the country's in".
So what about Sinn Fein? "I don't know whether the people of Drogheda will vote for them. They are a pretty big party but whether it happens or not is another thing".
A passing young woman is less equivocal. She has made up her mind to vote Sinn Fein. "Anybody but who's in at the moment".
And what about Gerry Adams? "He can't be any worse than who is in at the moment".
Another pedestrian would like to see a government of national unity. "It doesn't really make any difference who gets in, the country's on its knees. Be it Gerry Adams, Micheal Martin, Enda Kenny, I don't think it's going to be much of a change really."
The youngest member of the Oireachteas, Senator James Carroll, works his way around the doorsteps in a rural area close to Monasterboice.
He hopes his pitch as an energetic representative of a new generation will outweigh the obvious millstone of standing for Fianna Fail just as the party in power faces a backlash over the EU/IMF bail out.
'Hijacking Louth'
Senator Carroll points to Gerry Adams' slips when tackled about the economy, tax and benefit rates by the BBC and the local radio station, LMFM.
"Sinn Fein's economic policies haven't worked in any country they have been tried in anywhere in the world" he argues "and they won't work in Ireland either".
He doesn't believe the voters will back someone coming down to "hijack County Louth".
But back in Drogheda, where his campaign workers are transforming a former travel agent's into his new campaign base, Mr Adams rejects attacks on his candidacy.
He turns criticism of his performance in leadership debates back in 2007 into a virtue, maintaining that the crash has vindicated what he preached then.
"This is the first time in my political lifetime that so many people have been saying the same things we've been saying. People realise the fallacy and stupidity of having elites who govern in the interests of their friends in the golden circle".
When the time for inter-party debates comes in this campaign will the Sinn Fein president stand aside in favour of his well-regarded finance spokesman Pearse Doherty?
"I'm the leader, if there are leader's debates, I shall be the person who represents the party. I wouldn't be doing this job unless I was able to expound Sinn Fein policies," he said.
"When I let my name go forward I said there was going to be a tsunami of abuse coming down on us, and that's what's happening".
Ghost estate
Up the road in Dundalk, a ghost estate - one of more than 100 unfinished and largely unoccupied housing developments across County Louth - provides the visual backdrop to this campaign.
Vinyl on an unfinished roof flaps in the wind, ladders lie abandoned beside foundations on a nearby site.
But if this represents the recent painful past of the Irish Republic, on an industrial estate about a quarter of a mile away there's a hint of what the future might hold.
Here workers weld together the parts of multi-purpose vehicles being prepared for export across Europe as snow ploughs, grass cutters and street sweepers.
The head of the Dundalk chamber of commerce, Bill Tosh, hopes any new government will provide support to firms like this.
"We've had an inglorious decade where we have relied on developers and rascals such as speculators to get us into the trouble we have.
"But I do think we have to see this election as a turning point, a turning back to the policies we deployed in the nineties to great effect".
And the challenge facing whichever parties form the next government? "There's a huge loss of confidence and that's not just internally, externally and internationally there is shock and a lack of trust in the place.
"This new government has got to engage very very quickly to re-establish that trust."
Most pundits reckon the new government could end up being formed by a coalition of Fine Gael and the Irish Labour party, although with the campaign only getting under way, it would be unwise to try to predict the precise arithmetic of the next Dail.
There seems little doubt, however, that not withstanding criticism of its leader, Sinn Fein appear poised to make significant gains.
In that case Fianna Fail's difficulties could be Sinn Fein's opportunity to become a major force on the Irish opposition benches.