Gang's sat nav pinpointed cannabis factories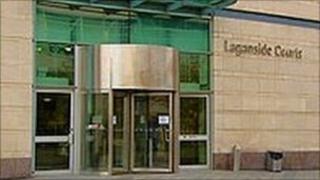 Police used a suspect's car satellite navigation system to help uncover a Chinese gang's cannabis-growing factories, the High Court has heard.
Officers went to houses in Bangor and Portavogie, County Down, after finding plants valued at £300,000 being cultivated in a Belfast property.
Details emerged as Xian Yong Cao, 27, who is accused of a series of drugs offences, was refused bail.
The judge said he could not be satisfied Mr Cao would not abscond.
Mr Cao faces charges of cultivating cannabis, being concerned in its production, possessing Class B drugs with intent to supply and dishonestly using electricity.
He was arrested after police were called to a property at Nendrum Gardens, Belfast, last July where a fire was caused by the electricity being tampered with.
A cannabis factory discovered in two rooms contained up to 1,000 plants, according to the prosecution.
Crown counsel Kate McKay said Mr Cao, of no fixed address, was detained when he got out of a Volvo car outside the house and tried to run away.
Cannabis factory
The Crown lawyer said a satellite navigation system taken from the car identified a number of properties believed to be used by the gang.
At one premises, on the Newtownards Road, Bangor, a large-scale cannabis factory with 500 plants was found.
Although no drugs were at another house on Main Road, Portavogie, large quantities of compost, plant nutrient and other items used for cultivation were recovered.
Mr Cao was also charged in connection with an alleged cannabis operation at a detached house in Rosemary Park, Belfast.
His DNA was found on a bottle of water discovered in the property.
A defence lawyer claimed his client had been forced to work as a slave after he was first brought to England by boat eight years ago.
"Since then he was expected to work off the debt that had been accrued through them arranging his covert passage," the lawyer said.
"His case, and there is no evidence to contradict this, is the Volvo he was driving was not his but belonged to a henchman of what we assume to be an illicit Chinese organisation."