Belfast scientists to tackle giant hogweed menace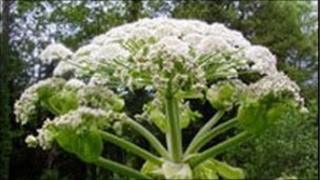 The invasion of the giant hogweed is to be repelled through a £2.6m project to root the species out of riverbanks in Ireland and Scotland.
Fast-growing foreign weeds have taken over waterside land, squeezing out native species and limiting access for anglers and other river users.
The aggressive plants can cause health problems for those who come in contact.
An EU-funded initiative led by scientists at Queen's University, Belfast, is now aiming to fight back.
£12bn is spent controlling the plant across Europe and £7.5m in Britain alone.
The CIRB project (Controlling Priority Invasive Species and Restoring Native Biodiversity) will control rogue plants such as the giant hogweed, rhododendron, Japanese knotweed and Himalayan balsam in river catchments on both sides of the Irish border and in Scotland.
Targeted
It will focus on the River Faughan in County Londonderry, the Newry Canal/Clanrye River, and the River Dee/River Glyde in County Louth.
Twelve Scottish catchments in the Argyll, Ayrshire, Galloway and Tweed areas will also be targeted.
CIRB project manager Dr Cathy Maguire, from Queen's School of Biological Sciences, said: "As well as damaging natural biodiversity, invasive species can cause serious problems for local communities.
"They take over river banks, preventing their use for angling and recreation. The giant hogweed also contains toxic sap that can cause painful blisters on anyone who comes into contact with it.
"The CIRB project will allow us to develop new approaches to controlling invasive species and restoring river catchments.
"By combining the latest scientific research with action on the ground, and by engaging with local communities to train people in how to identify and control invasive plants, we can prevent further environmental, economic and social damage."