Bloody Sunday relatives want soldiers prosecuted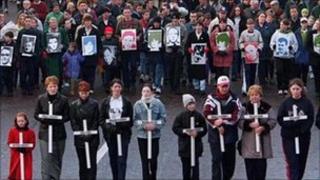 Families of people killed on Bloody Sunday are to seek the prosecution of soldiers responsible for the deaths.
Thirteen people died when British paratroopers opened fire on a civil rights march in Londonderry in January 1972. A fourteenth died later.
The Saville Report, published last year, found that the dead and injured were innocent.
Solicitor Peter Madden said authorities had been requested to "prosecute those responsible for the murders".
Mr Madden represents ten of the families of those shot dead and ten of the wounded.
"Following careful consideration of Lord Saville's report and its implications, we have submitted detailed representations to the Public Prosecution Service requesting that those responsible for the murders and attempted murders on Bloody Sunday be prosecuted in court," he said.
"It is clear to us that the evidential and public interest tests for bringing prosecutions have been satisfied.
"Our submissions have also been forwarded to the Crown Prosecution Service in England in respect of the perjury committed by the soldiers when giving their evidence to the tribunal whilst in London."
The move follows a decision to end the annual Bloody Sunday march commemorating the victims.
The 39th and final march took place in Derry on Sunday.
A number of options are now being considered to mark future anniversaries, including an annual gathering of remembrance at the Bloody Sunday monument, a remembrance Mass, a human rights weekend and an annual Bloody Sunday lecture.