Tributes paid to Dr Raymond McClean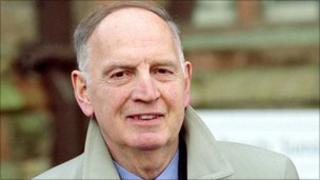 He was a former Mayor of Londonderry, a doctor, a sportsman and civil rights activist who wrote a book about his life and the events leading up to and on Bloody Sunday.
Many tributes have been paid to Dr Raymond McClean who died on Saturday aged 78.
Dr McClean's accomplishments were many. He attended to many of the wounded on Bloody Sunday, and campaigned for the victims to be recognised as innocent.
He was Derry's first nationalist mayor, representing the SDLP, after the era of gerrymandering ended.
Raymond McClean was also a boxer and footballer and was involved in the Kebele 37 project, which raised money for a community and health centre in Ethiopia.
His brother-in-law, historian Michael McGuinness, knew him for fifty years as a friend and relative.
"He was a man of intelligence, great integrity and compassion, and he brought those gifts to Derry," he said.
"He went from civil rights to politics so he could help people. On the sports side he was the medical officer for the amateur boxing clubs and for Derry City Football Club.
"All his gifts were put to the service of people of this city."
Dr McClean was also an author. In the 1990s he wrote a book about his life and the events leading up to and on Bloody Sunday called The Road to Bloody Sunday. He tended to many of the dead and wounded on the day.
"It was the housing issue in the city that got him involved in civil rights," Mr McGuinness said.
"He saw the living conditions were bad when he went out to visit people in their homes as a GP, that's what took him into politics too, helping people.
"I was with him on Bloody Sunday. I remember clearly him, my brother Danny and myself going to the march and the banter was great, nobody expected that turn of events at all.
"Derry was so fortunate to have him for all those years."
Respected GP
Raymond McClean was well-known in Derry as a doctor. After he qualified he joined the RAF and stayed there for a year before beginning his career as a GP. Dr Joe McAvoy worked alongside him at Bayview Practice.
"He was an exceptional listener, and that ranged from patients to staff," he said.
"He was a very good clinician and he also wrote a number of articles about his experiences on Bloody Sunday for the medical press, including the effects of CS gas and how it affected people long term.
"That was one of the big interests in his life. He suspected the high incidence of respiratory disease in the area was connected to the use of that during the Troubles.
"Ask any patient about him and they had immense respect for him.
"He was definitely a man of the people."
A 'sporting' man
Aside from his career as a doctor, Raymond McClean was also heavily involved in sport. He acted as club doctor for Derry City Football Club and fulfilled the same role for the city's amateur boxing clubs. Former Commonwealth boxing champion Charlie Nash described him as 'a great man'.
"He was a gentleman," he said.
"He always talked to me about discipline and he was quite a good boxer himself.
"He learnt his boxing at Trinity College and he used to show me how to throw punches, especially the left jab. He was tall and quite a skilful boxer himself - he was very intelligent when it came to boxing.
"I can also remember him being in our house a few times after Bloody Sunday, I lost my brother and my father was wounded, he was great with the family and kept them right, he was a great doctor too."
Dr Raymond McClean is survived by his wife Sheila, son Sean and daughter Sheila.