Is suicide a bigger problem for young people in NI ?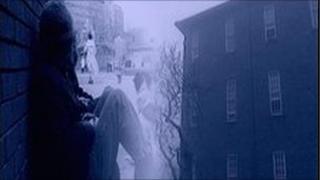 After two young children take their own lives in separate incidents on neighbouring housing estates BBC news online examines the problem of suicide among young people in Northern Ireland.
Martin Rooney, 13, and 11-year-old Ciara Doherty died in unconnected incidents at their homes in Twinbrook and Mount Eagles.
Kevin Bailey, South Eastern Health Trust Suicide Prevention coordinator said although the two deaths were tragic it was important the issue wasn't sensationalised.
"We need to take this and see how we can provide help and support for other young people," he said.
"Some media outlets have sensationalised the issue and we need to be aware that these are isolated incidents."
According to the latest statistics from the Northern Ireland Statistics and Research Agency (NISRA) the number of deaths from suicide fell from 282 in 2008 to 260 in 2009.
It is still the case that males are more likely to take their own life, with 205 doing so in 2009 along with 55 females.
But a series of unconnected incidents, particularly in west Belfast, have caused some concerns about a younger age group.
In 2009 one boy aged under 15 took his own life and no girls did. In the 15-19 age group nine boys and five girls took their own lives.
Mr Bailey said these kind of figures put the problem into perspective. Although recent cases have been in the spotlight there has not been a 'spate' of young people trying to take their own lives.
"Many families that have been bereaved by suicide will undoubtedly feel this distress as they remember their loved ones at this time," he said.
"Others may also be struggling with their own thoughts of suicide. If you are one of these family members or an individual struggling with suicide please know that support and advice is available."
Mr Bailey said it was important that people of any age knew where to turn to.
"Trained professionals are available to provide advice, emotional support or just a listening ear. Our aim is to ensure that help is available where it is needed," he said.
"If you have specific concerns about a member of your family please contact your family doctor or phone the Lifeline helpline.
"Suicide is something that we can help to prevent, given the right support."
Mr Bailey said if you are concerned about someone follow these steps:
1. Show You Care
Offer support and let them know you care. Say something like:
I'm worried about you and I want to help
Tell me about what's worrying you
What's up? I'm very worried about you
Whatever' s bothering you we will get through this together
2. Ask The Question
Don't be afraid to discuss suicide - asking about it won't put the idea in people's heads:
Have you been thinking about suicide?
Do you feel like ending your life?
Are you so down that you just want to end it all?
3. Listen
Be a patient listener. Allow the person to tell you how bad things are for them. Being listened to by someone who cares can help to relieve the pain they are experiencing.
4. Call For Help
Encourage them to look for help:
Let's talk to someone who can help
I will stay with you until you get help
You're not alone and there are people who can help you out of this situation
Where to get help
Samaritans offer confidential advice 24 hours a day. Call 08457 909090
Childline 0800 1111
Lifeline now offer a 24-hour-service 0808 8088000
Papyrus are specialists in preventing young suicide 01978 367333
Suicide prevention charity PIPS
The Colin Health for All Suicide Prevention Task Group
CAMHS (Child and Adolescent Mental Health Services)
BBC Action on 0800 055 055 can put you in touch with someone who can help