Mother of Portrush death teen appeals for information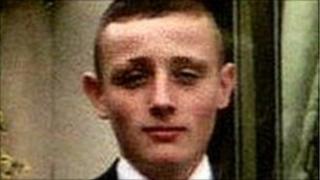 The mother of a boy who died after being attacked in Portrush two years ago has appealed for anyone with information to come forward.
Ryan Quinn was struck by a train in Portrush, County Antrim, after being chased onto the track in January 2009.
Two suspects in his killing are not being prosecuted.
The Public Prosecution Service said there is not enough evidence against the pair.
On the anniversary of his death, Ryan's mother Lisa Kinnaird said any lead could help police.
"Please come forward as the police have set up a Facebook page - even to go on there and leave anything at all," she said.
"Even if they think it's not important, just anything they've seen, if not for the family, then to clear their conscience."
Police have said the case is not closed and have announced they will use the social networking site Facebook to relaunch an appeal for information.
The teenager had been attending a birthday party in a local bar when he was assaulted and chased towards the railway track. He died instantly after being hit by a train.
Two people are named in a police file on the case. The PPS has said that, should new evidence become available, the decision not to prosecute them will be reviewed.
The officer in charge of the investigation, Detective Chief Inspector Ian Harrison, said it was "disappointing" that the evidence available was not strong enough to warrant prosecutions.
"But the investigation is not closed. It is now more important than ever for those people with information, some of them young people, to come forward," he said.
'Significant information'
"Despite all our appeals, and the heartbreak being suffered by Ryan's family, we still believe that people with information about what happened that night have yet to come forward.
"I want to ask them again, through traditional news media and through social media, to look into their hearts and examine their consciences.
"A 14-year-old schoolboy lost his life. The family struggles to get through every day without Ryan and with the knowledge that people with information have not come forward."
Detective Chief Inspector Harrison said police especially wanted to know about Ryan's movements between 2240 GMT that night and just before 2300 GMT when he was hit by the train.
"We know there was a sizeable crowd in the bar and that after some entertainment a considerable number of people went outside towards the smoking area. We need all those people to come forward. A number of them have, but some have not," he said.
"I believe there are still individuals in the community who have significant information about what happened."