Report into Robert Hamill killing is delayed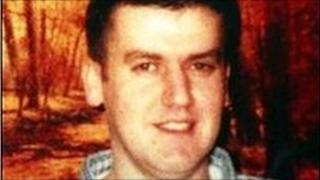 The publication of a report into how the police handled the sectarian killing of Robert Hamill has been delayed.
The public inquiry's finding's will not be released until three prosecutions in connection with the case have concluded.
Mr Hamill, a 25-year-old Catholic, was beaten to death by a loyalist mob in Portadown, County Armagh, in 1997.
NI Secretary of State, Owen Paterson, announced the report delay.
He said Mr Hamill's family had agreed, under the circumstances, to the delay of the report, which was due to be completed by the end of February.
"It remains my intention to publish the report as soon as practicable, but in light of the legal proceedings against these three individuals, I have decided not to publish the Inquiry's report until the legal proceedings have concluded; to do so would certainly jeopardise these individuals' right to a fair trial," he said.
"I understand from the inquiry that it is also the family's wish that the legal proceedings are not prejudiced by the publication of the report.
"In the meantime, I am exploring ways of ensuring that the report is safely and securely stored between its completion and its publication."
Mr Paterson said lawyers from the Northern Ireland Office and the Police Service of Northern Ireland would begin legal checks on the report to ensure its contents did not pose a threat to an individual or to national security.
Last month, the Public Prosecution Service said three people would be charged in connection with the killing of Mr Hamill.
Claims that police failed to intervene are the subject of a public inquiry.
The PPS decision followed a request from the inquiry team to reconsider a move not to prosecute Reserve Constable Robert Atkinson.
Mr Atkinson is believed to be one of those facing prosecution.
The inquiry began its public hearings in January 2009 and held its closing submissions hearings in December 2009.
It heard evidence in person from 174 witnesses and witness statements from a further 37 witnesses.
Mr Hamill, a father-of-three, suffered serious head injuries and died 11 days after the attack.