NI researchers aid 'largest' patient survey in Republic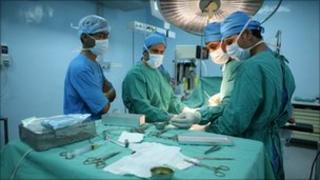 Researchers at the University of Ulster are taking part in the largest survey of hospital patients ever undertaken in the Republic of Ireland.
The survey has invited about 14,000 recently discharged patients to comment on their experiences of care and treatment.
The aim is to provide feedback and information on what the hospitals are doing well, and the areas where they may need to improve their service.
Patients are asked to evaluate waiting times, pain management, quality of food and accommodation, the information they received and how they were treated by hospital staff.
'Unique opportunity'
Suzanne McDonough, Professor of Health and Rehabilitation at the University of Ulster's School of Health Sciences, said the responses would be used by the hospitals to improve services.
"Measuring the patients' experience of hospital services gives patients a valuable and unique opportunity to have their say in a confidential manner, whether that is to be constructively critical or simply to acknowledge a positive experience," she said.
Dr Hilary Dunne, of the Irish Society for Quality and Safety in Healthcare, said it was "extremely important" that patients embrace the opportunity to have their say.
"We need to learn from patients' experiences to make the services better," she said.
"In taking 20 minutes to complete the questionnaire, patients will be an active participant in the drive for making the service better for the next person."
The researchers at the university's Health and Rehabilitation Sciences Research Institute and Psychology Research Institute are working with the Irish Society for Quality and Safety in Healthcare (ISQSH), the Republic's Health Service Executive (HSE) and the Health Research Board (HRB).