World Trade Centre reconstruction architect in Belfast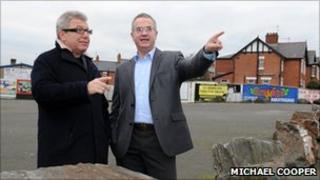 Daniel Libeskind, the world renowned architect who designed the reconstruction of the World Trade Centre in Manhattan has arrived in Belfast to help select the design for the EXPO West building in Belfast.
Mr Libeskind is chairing a panel which met on Saturday to select designers to develop detailed designs for the proposed EXPO Centre at the former site of the Andersonstown Police Station at the junction of the Falls and Glen Roads.
The international design competition is being run by the Department for Social Development. Minister Alex Attwood accompanied the panel on a visit to the site on Sunday.
Mr Attwood welcomed the American architect's involvement in the competition, noting that this had helped to attract world-class architecture and design teams.
"Like me, Daniel is committed to building a thriving and confident Belfast and to involving the local community in design proposals for their area. His advice in assessing entries is invaluable," he said.
Speaking about the plans for the site, the minister said he saw the EXPO West building as a "statement of my determination to regenerate an area that witnessed the worst effects of inter-community conflict".
'World class'
"It will be a building to showcase the wider regeneration of west Belfast - regeneration being led by my department at the Glen Road, at Andersonstown, along the Falls and through local neighbourhood renewal action plans."
Mr Libeskind said he was excited about the competition which would become "an extraordinary example of world class architecture and urban design".
"With the powerful history of the site, the project is committed to the meaningful revitalisation of Belfast," he said.
Mr Libeskind and Mr Attwood also presented certificates to children from Divis Street Primary School who have recently completed a course with PLACE (the Northern Ireland Centre for Architecture and the Built Environment) emphasising the importance of quality architecture and design for everyone in the community.
In 2003, Mr Libeskind won the competition to be the master plan architect for the reconstruction of the World Trade Centre site in Lower Manhattan.
He has previously worked on the Jewish Museum in Berlin, the extension to the Denver Art Museum in the United States and the Wohl Centre at the Bar-Ilan University in Ramat-Gan, Israel.
He was also involved in Dublin's Grand Canal Square Theatre which was completed in 2010.