Ex-MLA Fraser Agnew rejoins Ulster Unionists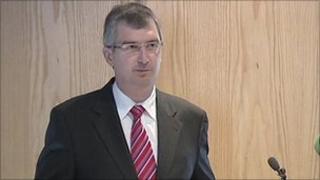 A former MLA has rejoined the Ulster Unionist Party almost 20 years after leaving.
Fraser Agnew was first elected to Newtownabbey Borough Council in 1980.
In 1982, he was elected to the Northern Ireland Assembly and was again successfully elected to the Assembly election in North Belfast in 1998.
He said his decision was prompted by the "integrity and vision" Tom Elliott had brought to the party as leader.
"With the Sinn Fein/DUP led executive going from one crisis to another, I have been very impressed with the integrity and vision that Tom Elliot has brought to the leadership of the UUP," he said.
"People are crying out for a strong determined voice and Tom represents the hundreds of thousands of ordinary people sick to the back teeth of politics that promise much, but then fail to deliver. I am delighted to be back in my natural unionist home."
Ulster Unionist leader Tom Elliot said it was "a major coup" for the UUP to attract Mr Agnew back to the UUP after a long absence.
"I strongly believe that voters across the province will return, like Fraser, to their natural Ulster Unionist home and I am looking forward to making sure that the UUP becomes the party of choice for all shades of progressive Unionist opinion," he said.