Economic questions surround Gerry Adams poll bid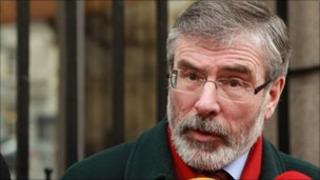 If you thought panto season was over - well look behind you - no-one's told Westminster.
At the Grand Opera House the Widow Twankey has packed her bags and gone away until next Christmas.
And in politics, so has the MP for West Belfast, or should that be the Baron of Northstead?
That's possibly the first and last time May McFettridge and Gerry Adams will ever be mentioned in the same breath. Or maybe not, anything seems possible these days.
If nothing else, the "oh yes he did, oh no he didn't" shenanigans about whether or not Mr Adams accepted something called 'an office of profit under the crown' throws an overdue spotlight on one of the more arcane traditions clung to by Parliament since 1624.
Mr Adams has more to worry about than that however.
For example, which is worse? Being known as the Baron of Northstead or being known as a "financial dunderhead"?
That was what he was called in a piece in Wednesday's Irish Independent by the respected journalist Sam Smyth.
Of course, Mr Adams' economic prowess has been questioned before south of the border. His performance in a party leaders' debate before the last Dail election was widely derided.
Rightly or wrongly, there's every sign that another posse is gunning for the president of Sinn Fein, especially now that he's decided to actually run for the Dail.
There was a time when he couldn't step in front of a microphone without being asked about the IRA.
Now it's the IMF. It's arguable which is worse - probably the latter.
When he denies being in the IRA no-one believes him.
When he claims to know about the economy, well, no-one seems to believe him either.
He can make the valid point that when those politicians who were supposed to understand finance were in charge they messed up.
But increasingly, that's not washing with the southern media, at least not in an election where the economy is all that matters.
A first in the peace process counts for nothing in the Ireland of 2011, at least not if you'd struggle to get a pass in economics.