Donegal businessman jailed for court order breach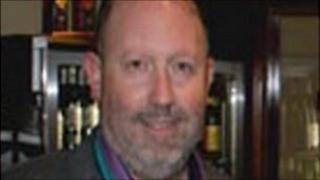 A Donegal man behind an investment scheme in which dozens of people fear they have lost millions of pounds has been sentenced to 18 months in prison.
Francois de Dietrich, who has gone missing, was jailed for breaching a court order ordering him to give details of where investors' money was held.
The French national has had his assets in NI frozen by the Financial Services Authority (FSA). A warrant has been ordered for his arrest.
He denies any fraudulent behaviour.
The Financial Services Authority began court action last autumn, resulting in an injunction banning him and his company ETIC Solutions from taking any more deposits.
Last week, the High Court ordered that de Dietrich be sent to jail for contempt of that injunction.
The order also forced the businessman to freeze £6.8m in assets. The figure has subsequently been increased to £20.2m.
Mr Justice Deeny issued the arrest warrant at Belfast High Court and said he believed it was a deliberate contempt of "legitimate requests" for information from the FSA.
'Reasonable apprehension'
He added: "He has taken deposits from persons in the United Kingdom, and quite clearly a neighbouring jurisdiction of the Republic of Ireland as well, when he had no licence to do so."
Although he made no ruling on the issue of fraud, the judge stated: "The court has a reasonable apprehension that many people have been defrauded of large sums of money here."
He rejected complaints by the businessman about alleged leaks, adding that even if there had not been any disclosures it would not justify his failure to provide the information requested.
"He had full opportunity to provide details of his business. It does not seem to be it would have been difficult to do that," the judge said.
De Dietrich claimed there were big profits to be made by investing in liquidated stock.
His solicitor, Peter Madden, stressed that his client denied any fraudulent activity.
He added: "If the FSA's stated obligation is to protect consumers I don't see how consumers could be protected if Mr de Dietrich is committed to prison."
Following the decision to have him jailed for contempt, the lawyer confirmed plans to appeal the ruling.