Fears over future of MS Centre in Dalriada hospital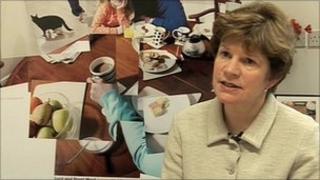 There are fears over the future of Northern Ireland's only regional respite centre for Multiple Sclerosis sufferers.
All five health trusts in NI use the centre at the Dalriada Hospital in Ballycastle.
However the Northern Health Trust is reviewing whether the centre is the best option for future care.
The MS Society has said it is concerned about the impact on sufferers and their families.
Northern Ireland has the highest rate of MS in the world with more than 4,000 people affected.
The centre in Ballycastle is the only dedicated facility of its kind in NI.
The director of the Multiple Sclerosis Society, Patricia Gordon, is worried about any reduction in the service.
"We would be concerned that if there is no access that people will have to be cared for at home and this could mean that carers are not able to avail of suitable breaks," she said.
"This could mean that people have to be cared for in a residential or nursing home and will not be able to live at home."
Pamela Craig, the northern health trust's director of primary and community care services for older people, said that while some users were happy with the service, others said they would prefer to have respite more locally or in their own homes.
She said that the trust was reviewing all options and the assessment will be completed in two months.