Hospital X-ray delay 'totally unacceptable'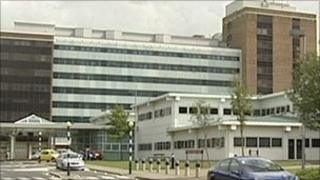 A doctor who is also on the Assembly's health committee has said he is staggered that 18,000 X-ray assessments were not carried out for months.
Four people received a late diagnosis of cancer as a result of staff and equipment shortages at the Western Trust's Altnagelvin Hospital.
Independent MLA Kieran Deeney said X rays should be quickly assessed whether routine or not.
Ten thousand cases were looked at by doctors but the rest were not.
Dr Deeney said: "To see 18,500 not reported on, now they say routine X-rays, within 28 days, that is a staggering figure and totally unacceptable in a modern day health service."
The chief executive of the Health and Social Care Board said all trust problems were fixed as soon as they emerged.
John Compton said: "Remember the issue on X-rays was about the reading of routine X-rays."
"We're talking about 15% of the total X-rays that are done in the hospital and they are routine, not priority diagnostic tests from a GP.
He added: "One of the issues of confidence is always whether an organisation has the ability to hold a mirror to itself. This organisation did so and it fixed the problem."
"We now have information technology systems which we didn't have before which allow us to police and operate the timescales in terms of reporting X-rays."
Jim Wells, DUP chairman of the Assembly Health Committee, said he remained deeply concerned about the issue.
"We want to know, did anyone die as a result of the delay in the analysis of their X-ray.
"I think we need to know the whole situation here," he said.
Liz Atkinson of the Ulster Cancer Foundation said patients would expect X-rays to be assessed quickly.
"What I hope is the reassuring thing here is that they are saying the problem has been fixed and they are saying it's a one-off and it won't happen again - we have to hang onto that and hope that is the case," she said.
"Our message always is early diagnosis saves lives."
Ms Atkinson said she regularly talks to staff in cancer units and they are under "huge pressure".
"More and more people are using our health service with less resources," she said.
The Health and Social Care Board ordered a performance review to be carried out into the Western Health Trust
It followed the discovery of unprocessed X-rays and a number of high profile cases such as the McElhill family tragedy, the death of toddler Millie Martin and the Donagh sex abuse case.